77 N Washington St, Berkeley Springs, WV 25411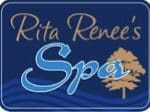 Our mission at Rita Renee's Spa is to provide quality/professional services while developing relationships with our clients and community. Our goal is that when you enter the Spa you will have a feeling of rest and relaxation and you will leave feeling restored.
I am here to serve. Come and enjoy a small intimate atmosphere with beautiful spa music playing, a water fountain flowing in the waiting area, complimentary hot green or cold pomegranate tea. I offer Massages, Facials, Pedicures and Manicures. My goal is when you leave you are ready to face the stresses of life and looking forward to returning.
I want my Spa to cater to the local community as well as the tourists who visit Berkeley Springs. As I grow I will offer more and more services. I look forward to meeting each one of you at Rita Renee's Spa!