77 N Washington St, Berkeley Springs, WV 25411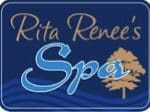 Rita Renee's Spa is a full-service spa that offers a range of treatments and services designed to help guests relax, unwind, and rejuvenate.
The spa's menu includes a variety of massage therapies, including Swedish, deep tissue, hot stone, and reflexology. They also offer facials, body treatments, waxing, and nail services. The spa uses high-quality products and the latest techniques to ensure that each treatment is both effective and luxurious.
Rita Renee's Spa has a relaxing and tranquil atmosphere, complete with soothing music and soft lighting. The spa's friendly and knowledgeable staff is committed to providing personalized attention to each guest, ensuring that everyone feels comfortable and at ease.
In addition to its excellent spa services, Rita Renee's also offers a variety of packages and specials, making it easy to plan a day of pampering with friends or a romantic couples' retreat.
Overall, Rita Renee's Spa is a must-visit for anyone looking to relax and rejuvenate in Berkeley Springs. With its expert therapists, luxurious treatments, and peaceful ambiance, it's the perfect place to escape from the stresses of everyday life and indulge in some well-deserved self-care.