33 North Washington Berkeley Springs, WV 25411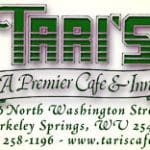 The restaurant was created in 1989 by Tari Hampe-Deneen (a self-taught cook who grew up in Berkeley Springs), and her husband and hero Lovey. Tari does the cooking while Lovey helps with dishes, buses tables, and fixes whatever needs fixing — the Cafe's lifesaver!
In April 1989, when Tari followed a dream to open her own restaurant, she never imagined it would be the culinary talk of the town it is today. "I was raised on fresh produce, wild game and fish. As a child, I learned to make everything from scratch. In season, you'll find fresh produce and herbs daily from my bountiful gardens.
……And now there is an Amy
On July 1, 2006, Tari turned the entire corporation and the three buildings that house Tari's over to her long-time employee and friend, Amy Mcbee.  "I have known Amy since she was in her mother's womb.  I even changed her diapers.  Amy came to work for me as a child in 1989.  Since I have no children of my own, I decided to keep it in the family by doing the next best thing.
Amy and her husband Scott are now filling the roles of Tari and Lovey with the back up support of their children. You can find their daughters Kiarra and Ashlyn serving our customers and son Cody works along side his Mom in the kitchen.
Many of the faces you see in the restaurant have been long time employees of Tari and now Amy and back in the kitchen Devin the head chef has been with the restaurant for 10 years now.
So while Tari and Lovey are enjoying a well deserved retirement, you can count on Amy and her family and staff to maintain the reputation that the restaurant has earned in the past 20 years